Help!
Answers to some common questions
How do I get started?
Clicking on the index button will take you to a page showing all the topics currently available for viewing. You will see this at the top of every page.
What are the best settings for viewing this site?
A screen resolution of 1024x768 pixels in millions of colours (24 or 32bit) is recommended to see this site. Additionally a broadband connection is highly recommended.
What are all those buttons for?
These buttons allow you to share our site with your friends. You can email a link to them or add a bookmark to your public or private lists on most social networking sites. There are icons for the most popular sites or you can click on 'More' for a full list. The 'Like' button lets all your Facebook friends know about CELLpics.
Follow Us
Follow us on Facebook and Twitter!
This button allows you to subscribe to our news feed using one of the many web-based feed readers, just click on it and select the service you use and the feed will be added to your personalised pages. Alternatively you can subscribe to the feed in your browser's own reader by clicking this link:
Why can't I see the interactive content?
This site makes extensive use of Adobe Flash. Most computers already have Flash installed and this is upgraded automatically as new versions are released by Adobe. If this does not happen on your computer then you can download the latest free Flash
plug-in
for your web browser to see all the interactive content.

It is also highly recommended (but not essential) that javascript is turned on when you access this site.
Why doesn't CELLpics work on my iPhone, iPod Touch or iPad?
The interactive content on this website is delivered to your computer or device using Adobe Flash technology. This is supported by all desktop and laptop computers by the use of a free plug-in. Flash is also available on many mobile devices (phones and tablets). Unfortunately Apple does not allow the use of the Flash plug-in on the iPhone, iPod Touch or iPad and this means that CELLpics interactive content (along with Flash content on many other websites) is not playable on those devices.
CELLpics is currently unable to offer the interactive content in a form suitable for iPhone and iPad.
If Flash is not active on your device you will see this image. Clicking on it will take you to a page where you can get the latest plugin or App for your mobile device (*if available*)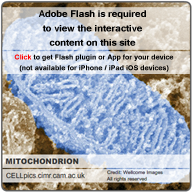 Why does the content take a long time to download?
The interactive content on this website is best experienced with a broadband internet connection.
If you are using a dial-up connection or sharing a broadband connection with many other users then download speeds will inevitably be much slower.
Why do I get annoying warnings about pop-ups?
Some web browsers block pop-ups as a precaution because they can cause problems on your computer. However because of the way CELLpics works some links will cause a new window to be created with the linked-to site in it. This can trigger a pop-up warning. Click on the yellow warning for more options and choose 'Always Allow Pop-ups from This Site'. It is perfectly safe to allow pop-ups on the CELLpics site and doing so will remove those warnings.
Does CELLpics have a privacy policy?
Yes we do. You can see it
Here
Does CELLpics have a site map?
Yes we do. You can see it
Here